Building and Zoning
Building and Zoning
The Building and Zoning Division of the Public Works Department is responsible for administering the building and zoning codes of the City. Ordinances are enforced according to professional standards in accordance with the Pennsylvania Municipalities Planning Code, the Pa Construction Code Act, and other appropriate statues of the Commonwealth of Pennsylvania. Additionally, prior to any permit's issuance, the contractor must submit a copy of a Certificate of Liability Insurance and proof of Workers Compensation Insurance Coverage or a valid notarized exemption.
Building
The Building division oversees all construction and repairs to residential and commercial buildings. Construction projects must comply with the following codes:
Uniform Construction Code, contained in 34 Pa. Code, Chapters 401-405, as amended.
International Building Code, 2018 Edition, as amended by the City of Lebanon
International Residential Code, 2018 Edition, as amended by the City of Lebanon
(Please note: all commercial work, other than painting / carpeting, requires a permit)
Residential Permit Reference Guide
Building Code Official
Building Code inspection companies are Commonwealth Code Inspection Services (1-800-732-0043), Inc or ABI Inspection Services (717-733-1654). They are under contract to provide residential and non-residential construction code inspections. Any questions regarding plan review comments and/or to schedule a construction inspection should be directed to the inspection service that you choose. Building permits are received by the Zoning Office of the City of Lebanon and forwarded to the inspection company you have chosen. After their review, the plants and permits are given back to the City of Lebanon for pickup and payment in the Department of Public Works, 2nd Floor at 735 Cumberland Street.
Some examples, which require a building permit, include, but are not limited to: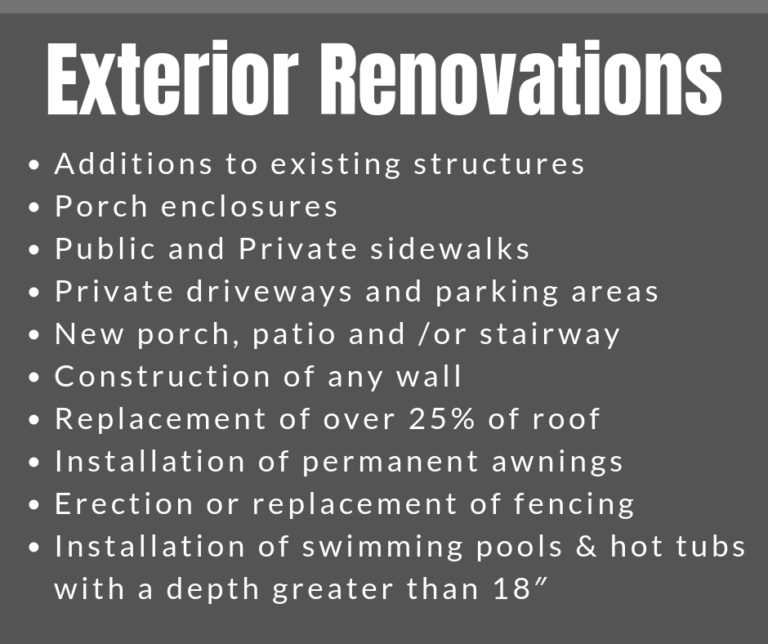 Required Building Inspections
To assure timely inspections, a 24 hour minimum advance request for inspection is required.
Depending on the construction project, one or all of the following listed inspections are required.
Footer: A footer inspection is required after excavation and forming are complete- before placing of concrete.
Foundation: A masonry or plain concrete foundation wall is required to be inspected prior to backfill, complete with foundation drain, damproofing or waterproofing, sill plate anchors and before any framing. Required slab insulation must be in place.

All concrete foundation walls are required to be inspected before pouring of concrete, when the forms and reinforcing steel is in place.
A second inspection is required after the forms have been stripped and the damp-roofing has been applied, foundation drain placed, anchor bolts – before framing.

Framing: The framing inspection is required after rough in of plumbing, mechanical, electrical (with a rough wire inspection complete) are in place. The plumbing and supply lines shall be pressurized and ready for inspection. Heating and cooling duct system shall be pressurized and ready for inspection (If required) . All draft stopping and fire blocking shall be in place. Townhouse inspections will now include pre-concealment and final inspections for the required fire sprinkler systems. The inspection is required before insulation or drywall is placed!
Wall Board: The wall covering inspection is required after placing the drywall / wall covering and before taping or compounding over joints.
Final: The final inspection is required before occupancy and after the final electrical inspection has been performed by a third party agency. The structure shall be in full compliance with the Construction Code as adopted by the Municipality under which the permit is issued. The Construction Code Permit includes the certificate of occupancy and is required to be presented to the Building Code Official at the time of final inspection.
Zoning
Zoning is a method of regulating land use and structures. It is initiated by the adoption of a zoning ordinance that is designed to protect the public's health, safety, and welfare. Zoning maps define different zoning districts.
The City of Lebanon Zoning Ordinance defines requirements for 10 different zoning districts and contains community development objectives and the necessary technical provisions to regulate the permitted use of land and structures. The ordinance establishes bulk, height, area, setback, and other standards. The Zoning Ordinance has been adopted and amended by the City of Lebanon Council and is contained in Part 13 of the Code of Ordinances. The zoning map delineates the boundaries of the specific districts or zones created in the ordinance.
Zoning is recognized as a positive tool for encouraging certain development and for creating an attractive community. In addition, zoning now frequently attempts to control development in areas subject to flooding, to preserve natural and historic features, and save farmland.
Zoning permits are required for the following:
Constructing or altering a structure
Constructing an addition
Demolishing or moving a structure (plus a separate demolition permit is required)
Construction or placement of fences, decks, sheds and garages
Change or alteration of the use of the property
Installation of swimming pools and hot tubs with a water depth greater than 18"
Erection of a sign (plus a separate sign permit is required)
Zoning Hearing Board
The City of Lebanon Zoning Hearing Board is established by the Zoning Ordinance and members are appointed by the Mayor. The Zoning Hearing Board was created to help assure fair and equitable application and administration of the Zoning Ordinance. The Zoning Hearing Board is the local court for zoning matters. The purpose of the Zoning Hearing Board is to hear requests for variances, special exceptions, and other appeals. An applicant may file an application to be heard by the Zoning Hearing Board by completing and submitting a Zoning Hearing Board Application.
Zoning Officer
The day-to-day administrative procedures provided for in the ordinance are the responsibility of the Zoning Officer. The duties of the Zoning Officer generally involve receiving, reviewing, and issuing applications for building or zoning permits and certificates of occupancy; maintaining records of applications and permits; making inspections to determine compliance with the ordinance; notifying persons violating the ordinance; keeping the zoning ordinance and maps up-to-date; and accepting applications for and presenting facts at hearings before the Zoning Hearing Board. The Zoning Officer can be contacted at 717-639-2800, Option 4 or cpatches@lebanonpa.org
Permits are required to be posted and accessible to the inspector.
Home Improvement Contractors Additional Requirements
Effective July 1, 2009, all home improvement contractors must register with the PA Attorney General Office and provide the City of Lebanon with a certificate of insurance and registration number. This is enforced to protect homeowners from unscrupulous contractors.
For more information and to apply- visit the State Attorney General's Website: www.attorneygeneral.gov.
We strongly suggest that you call the City's Building and Zoning Division BEFORE you begin any project. The staff will be delighted to further explain the regulations as they pertain to building and zoning permits. We appreciate your cooperation, and look forward to working with you.